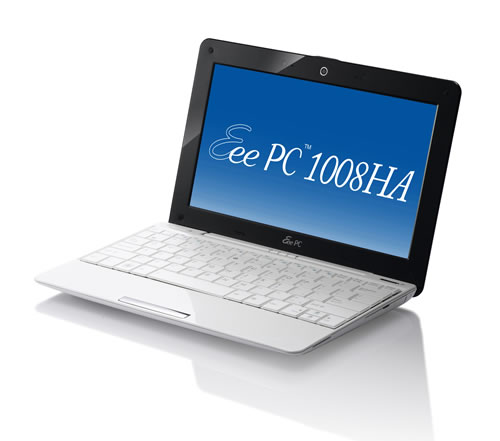 Also known as the Asus EeePC 1008HA, the EeePC Seashells is Asus' new update to the netbook line that started it all. The new design certainly looks classy and very well done, a lot better than netbooks from previous generations. But that's the problem — it's not really any prettier than every other netbook we have in the market now. Most maufacturers have raised their game to produce beautiful portable machines at a reasonable price. And then there's the issue of pricing. If Asus Philippines gets to do it their way, the EeePC Seashells will come out at around 32,000 pesos. Ouch. That's a lot of money for a netbook; in fact for a bit more than that you can buy a netbook and a desktop PC.
The EeePC Seashells comes with things typical in netbooks: Intel Atom processor, a large hard disk (160GB), 1GB of RAM, 6–hour battery life. That battery life is impressive for this design, you don't get the unattractive bulge typical in high–capacity batteries. Unfortunately, the battery is not user–replaceable as it is integrated; it is not the removable type.
As this review would suggest, the EeePC Seashells (1008HA) is a good performer that's thin and light with a gorgeous design. It is sadly hampered though with a non–removable battery and a Philippine SRP that puts it way above its competitors. 32,000 is steep for a netbook. Anywhere in the 20-25,000 peso range would make this an excellent choice especially with the chic colors it is available in.