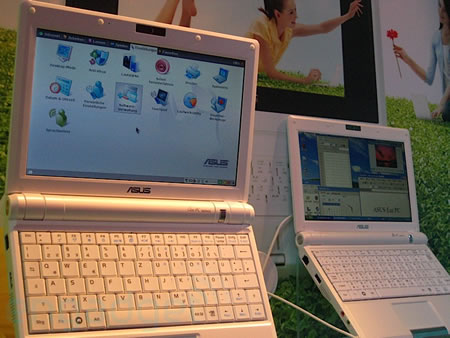 Yes, even before everyone could get their hands on the always sold–out Asus Eee PC, they have announced a new model with compelling improvements. The 9–inch Asus Eee PC is currently covered extensively by gadget blogs like Engadget, who managed to give us the scoop over at CeBIT.
Notable improvements on the new Eee PC:
New 9–inch LCD, actually 8.9–inch, much bigger than the previous 7–inch display
1024 x 600 resolution, an ergonomic screen estate better matched for today's operating systems unlike the older 800 x 480 pixel screen.
1 GB of DDR2 RAM, twice than that before and a better starting point for a reasonably snappy system
Larger SSD drives reportedly coming in 8 GB up to 12 GB offerings.
A bigger trackpad!
Though there is more than enough reason to think that this is a completely new model, it isn't. It is still heavily based on the previous model with the same keyboard and basic structure, with some components changed to accommodate the improvements.
Though price may be fractionally higher, the new Eee PC will still be a good buy considering the price of comparable ultraportables.