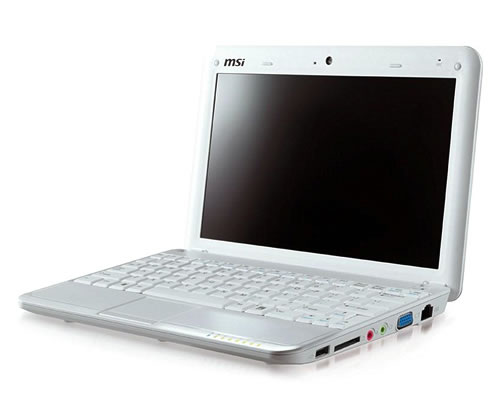 The MSI Wind PC is one ultraportable that came after the Asus Eee PC craze. Fortunately for MSI, coming late gave them the chance to produce a good product. With a 10-inch LCD powered by a 1.6 GHz Atom processor, the Wind was designed to e much more usable than the Eee PC. With 80 GB of storage available and a battery capable of getting four hours of continuous use, it can easily outdo most of the other ultraportables in the market, even the more expensive ones. It's no surprise that LaptopMag's review praises it so highly:
If there were a Survivor: The Mini-Notebook series, and each of the ultra–low-cost notebooks were incrementally eliminated, the MSI Wind NB would be the one left standing. Unlike its competitors, the Wind NB offers the complete package, including an adult-size keyboard, a larger 10-inch screen, and a very capable Atom processor. This system's solid performance, stellar 5-plus hours of battery life, and $499 price make it the best all-around mini-notebook to date.
The MSI Wind PC is now available locally here in the Philippines and sells for 25,500 pesos. It's in the same range as the 8.9-inch Asus Eee PC 900 but it sports a better processor, a larger LCD, more storage, and more battery life. What's not to like about this one?