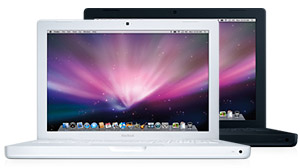 Yes, the new MacBooks are here!
But they're not exactly new. It's the same Intel–based MacBook that we've had for some time now, updated to "Santa Rosa" specs, though not exactly Santa Rosa since Apple chooses to use its own wireless card instead of Intel's.
Listed below is the current specs for Apple's mainstream notebook:
13.3-inch glossy display
2.0GHz or 2.2GHz Intel Core 2 Duo
Up to 4GB memory
Up to 250GB hard drive
Apple Remote with Front Row
Built-in iSight camera
Intel Graphics Media Accelerator X3100
Slot-loading optical drive
Built-in AirPort Extreme
FireWire 400 and two USB 2.0 ports
Gigabit Ethernet
Bluetooth 2.0+EDR
Now with 800MHz front side bus, a better though still built–in graphics card GMA X3100, a new maximum RAM of 4GB DDR2, the new updates are very much welcome and should be good enough for those holding out on getting a MacBook, like me. The keyboard layout has also been updated to reflect the changes in the recently released thin aluminum wireless keyboards, and can be seen in this page. Additionally, rear vent fins are spaced farther, detailed in this list of differences in the new MacBook compared to the previous ones.
One problem though is price. At the same price levels, there are several win–tel offerings that pack more punch, or you could get a similarly functional machine with less of the bells–and–whistles for much less cash. The Apple MacBook might still be competitive enough, but I doubt it will catch a good chunk of the pie, especially not this coming holiday season.
Unless Apple has another surprise up its sleeves.