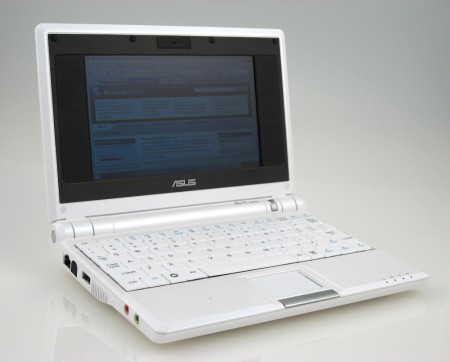 Despite the weird name, the Asus Eee PC is a well–anticipated mobile computing device that's sure to be in most geeks' wishlist this Christmas. It isn't exactly a workhorse, and spec–wise it may as well be a good cross between a laptop/notebook and an advanced PDA. The 4GB version, known as the Asus Eee PC 701, is reviewed by NotebookReview.com, with its features listed as:
Processor: Intel Celeron M ULV 900MHz
Graphics: Integrated Intel GMA 900 GPU
Storage: 4GB of Flash-based storage (SSD)
Memory: 512MB of DDR2 RAM (667MHz)
OS: Xandros Linux (Asus customized)
Screen: 7-inch screen with 800 x 480 resolution
Ports: 3 USB 2.0, 1 VGA monitor out, headphone jack, microphone input, SD card reader (SDHC compatible), Kensington lock slot, Ethernet 10/100
Webcam (0.3 MP)
Battery: 4-cell 5200 mAh 7.4V Li-Ion (rated at 3.5 hours)
Wireless: 802.11b/g Atheros
Input: Keyboard and Touchpad
Weight: approximately 2 lbs with battery, 2.5 lbs travel weight with AC adapter.
Two-year warranty
The folks at NotebookReview.com gives this device an "Editors Choice" rating, a tag they rarely give out, suggesting something special about the Asus Eee PC.
In the end, the Eee PC is the single most impressive notebook we've seen priced below $400. The technical specs might look sub par, but the usability and overall performance of the Eee PC rivals notebooks costing several thousand dollars more. Granted, you can't install Photoshop on this little notebook and you can forget about playing Bioshock on this thing, but the Eee PC can do just about everything you "need" to do with a notebook while on the go.
Now I'm sure you're almost ready to get one soon. Be sure to familiarize yourself with it so you'd know what to expect, and read this helpful tweak guide to get the most out of it.
Other reviews of the Asus Eee PC: