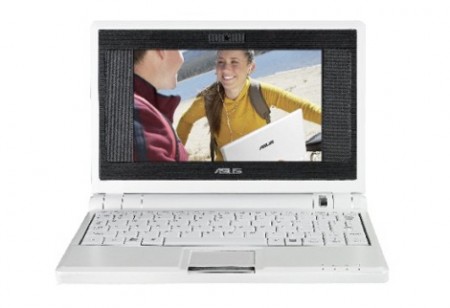 The Asus Eee PC is probably the hottest non–Apple tech gadget today, and for good reason. Offering the mobility of ultraportable notebooks/laptops at the price of an advanced PDA or smartphone (hint: iPhone?), geeks and mobile warriors are quick to appreciate the goodness this device provides.
So how much will it (Asus Eee PC 701) retail in the Philippines? 17,999 pesos. Insiders have leaked this price though it is still unconfirmed until we see it in the stores. At the said price, it is actually cheaper than the announced price of USD $399, if converted using 44 pesos to a dollar. It's cheaper to get the Asus Eee PC here in the Philippines!
But wait, knowing how unscrupulous some local retailers are, it wouldn't be a surprise to see it selling for more than twenty thousand pesos, especially considering the holiday buying rush. Needless to say, I want one. Want it enough that I'm reconsidering if I really want one of those new MacBooks now.