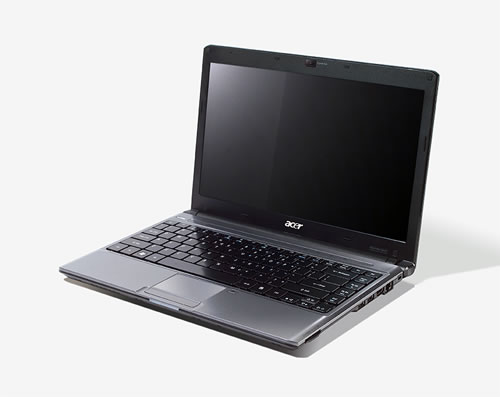 Aiming to be one of the few to first launch highly energy–effecient laptops, Acer has launched its Acer Timeline series of laptops that boast of ULV processors that result in extended battery life. Two models were demoed in the launch event: the Timeline AS4810T and the Timeline AS3810T. Both trims sport Intel Core 2 Solo SU3500 processors clocked at 1.4 GHz running on an 800 MHz front–side bus. With 3 MB of L2 cache, this is a reasonably good processor hampered only by the absence of dual core.
Here's the Acer Timeline in brief:
Intel Core 2 Solo SU3500 (1.4 GHz, 3 MB, 800 FSB) processor (ULV–type)
Mobile Intel GS45 Express Chipset
Intel Graphics Media accelerator 4500MHD with up to 1759 MB DVMT 5.0 (64 MB dedicated memory, up to 1695 MB shared)
1366 x 768 pixel resolution Acer CineCrystal LED–backlit TFT LCD screen (14 inches for the Aspire 4810T and 13 inches for the Aspire 3810T)
Intel Laminar Wall Jet technology for cooling the processor
6–cell battery rated to 3 hours of battery life, but can be extended up to 8 hours using the Acer PowerSmart Manager
24 mm chassis thickness
1.6 kg for the Aspire 3810T and 1.9kg for the 4810T
The Timeline laptops surely are attractive devices that try to be very similar to Apple's MacBook Air. The 3810T in fact skips the built–in optical drive just like the feather–light MacBook Air, but infortunately, it is still nowhere as thin or sleek. One thing I found worth noting was the new keyboard design used in the Timeline, they are also MacBook–like yet they appear floating on a flat plane; very attractive and classy for a laptop of its class. Typing on the keyboard was a joy, providing a tactile feel without the clickity–click noise.
The Timeline 3810T has a suggested retail price of 44,500 pesos while the 4810T comes cheaper at only 39,900 pesos. With prices just close to mainstream laptops available today, the Timeline series should sell well. Though the 8–hour promised battery life may be a little too much, it should still comfortably provide 4 hours of use considering the ultra low voltage single–core processor. I bet it would be fun putting the Timeline 3810T to a battery life test against the more popular netbooks.